Despite its relatively short history in the gaming industry – at least compared to such games as poker or dice – slot machines enjoy a strong and stable position as one of the favorite games among players and a very profitable must-have for any land and online casino.
Introduction to Online Slots
Click here to go to slot machine strategies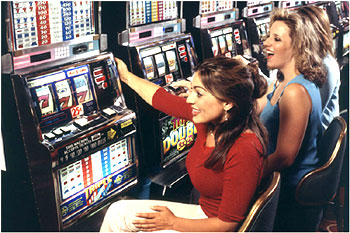 The key to this success is simple rules, which do not require you to spend months or years learning how to play the game and gaining enough skills to start winning.
In this case with slot machines an absolute newcomer has the same chances of getting a winning combination as a seasoned online casino veteran. And since the game is based purely on chance, you can just sit back and enjoy the game.


Here is more free slots bonuses if you are looking to play slots for free.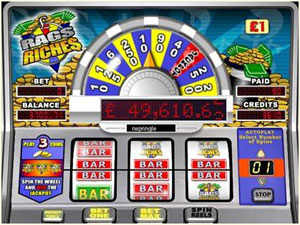 Another thing that makes so many online casino players to choose slot machines are of course mind blowing progressive jackpots like the ones that you can find at Bet365.
Most of slot machines in online casinos powered by major game developers are connected to one progressive jackpot which means that each of the bets placed by players in those games contribute to one jackpot pool, allowing it to reach truly life-changing sums.
While traditional slot machines have only one payline, modern online casinos offer a myriad of different multi-line games with even up to a hundred paylines. This means that a winning combination can be found in more than just one line though you should bear in mind that does not necessarily mean that your chances of winning are significantly higher.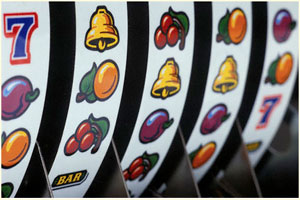 The core of online casino slot machines is a random number generator, which is an algorithm that continuously generates a stream of random numbers based on the odds that were preset by the manufacturer. This ensures the casino advantage and means that chances of winning on different slot machines do not differ that much from each other.
On the bright side, using constantly improved random number generators guarantees that games are fair and everyone have the same chance to be the lucky winner.
Slot Machine Strategies
Many people don't know the first place to turn when it comes to actually having any kind of strategy when it comes to playing slots. Playing without a strategy is a recipe for losing all of your money slowly.
The truth of it is that the slot machines have traditionally the largest house advantage of any of the casino games. This isn't to say that they are unfair, but the cold hard fact is that the machine pays out less overall then is put in. If you don't have a strategy, you will die the death of a thousand cuts.
What strategy could you possibly use? That all depends on which kind of slot machine that you are playing on. For the purposes of this guide, I'm going to explain the strategies that a slots player can use while playing the 5 reel video slot machines.
Of the 5 reel slot machines, I can break these down into a couple of sections.
Bonus Round Video Slots
There are slot games that offer a bonus round, which is an added feature to the game. Sometimes you will get a fixed amount of money and sometimes you can risk the amount that you won for what's behind door number 1.
The general rule of thumb if you have to make a decision is that the average payout for a bonus round should be between 20 and 30 times the amount that you bet on the spin. You should also expect to see a bonus round about every 100 to 300 spins.
Just remember this general tip when it comes to features and slot machines: The more features that a slot game has, the less the paylines will hit overall. The less features that a slot game has, the more the paylines will hit overall.
Paylines, Symbols & Reels
So how do you win in slots? For those who haven't played a video slot before, you might not know. The general rule is that the symbols need to match each other starting from the number 1 reel, which is the furthest to the left, and moving across the reels to the right.
The symbols look different from each other and some are more valuable than the others. The jackpot icon will have the least number of spots on a reel.
A reel is what the symbols are located on. They virtually spin when you play online. The spots on the reel, called stops, are filled with the different amounts of the different icons. The common number of stops on a video slot machine is 64.
The payline is a path across the reels that the symbols have to match in order to win money back on your bet.
Free Spins, Multipliers & Wild Symbols
Here are the next three most common features found in 5 reel video slot games.
Free spins is a feature that is activated, usually by getting three of the scatter cards anywhere on the reels. The scatter card usually the only icon that allows you to win when two or more of them are anywhere on the reels. You get a set number of free spins at the rate which your last spin was before you won the feature.
From what I've experienced, the rate at which you can get free spins is usually faster on average than the bonus feature is triggered. I would say about every 50 to 200 spins on average.
I've seen multipliers in a couple different places. One common place to see them are as part of the bonus round or free spins feature. The other place that you can see multipliers are at the end of a payline that you have won. This will usually double or triple the win on that payline.
Wild symbols are also called substitutes. They can be used to complete paylines by matching any of the normal symbols (no scatter, jackpot or bonus round icon)
More Slot Tips
The trick to winning a slot machine with a lot of feature is that you have to take advantage of these features by betting a larger amount when you think you are going to get it. Now if we only had a time machine so we could tell ourselves when the bonus was coming ...
There are certain things that you can pick up about any particular video slot if you do enough spins. This usually entails doing thousands of spins. The only time to do this many spins practically without losing a lot of money in the process is by playing the video slot machine in one of theinexpensive slot tournaments. Figuring out how to win at slots starts there.
A lot of these tournaments are free to enter and are very inexpensive to rebuy. Then, just turn on the auto spins and take note at how often the following things happen:
How often on average does the bonus or free spins feature get triggered?
This is important to know because you want to be able to anticipate and reap the rewards of these features.

Are there prolonged dry spells where you do not win more than 2 times your original bet for 50 spins or more?
Be especially wary of this right after you win a big feature. I would immediately back off of the coin amount if you start to feel the reels go cold. This also could mean that something big will happen to end the drought. This is when those rare 30+ times your bet hits tend to happen.

How often does no payline win? How often do you lose overall on your bet?

How often do you get a 2x, 5x, 10x, 20x and +30x payline hit on your bet?
These are all very important to know. On a very long scale, most video slot games do have tendencies that you can take advantage of if you are alert. I can't tell you how many times I missed taking advantage of the feature by one or two spins.
This is why that slots is a losing proposition for a lot of people. A lot of people don't take the time to master the game the same way a blackjack player would. This may be very tedious and boring for some with all the thousands of spins. But the advantages you can gain will make this far from a game of pure luck.